ExcaVision is available worldwide, and supports 13 languages!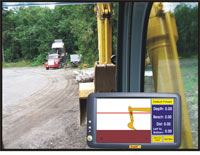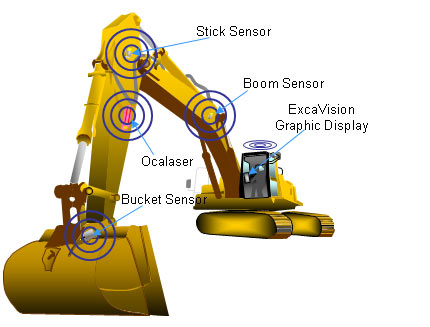 ExcaVision is a grade control system for excavators and backhoes. It consists of a touch screen graphics display, three angle sensors, and a receiver box. The standard system is wireless, cabled versions are also available for underwater work.
The advantages of using ExcaVision
The ExcaVision grade control for excavators is used in rough environments. Experience shows that ExcaVision increases productivity in practically all scenarios. The main advantages of using the ExcaVision are:
The operator does not need an assistant, resulting in lower wage costs.
Fewer stops for measuring the progress of the excavation result in:
Longer daily excavating.
Lower fuel costs.
Less wear of equipment.
Accurate readings in any position of the arms, results in:
No need to redo jobs because of inaccurate excavating ("overcuts" and "undercuts").
Reduced material cost and transport costs.
Reduced risk of damaging electrical, gas and sewage lines.
Safer working environment:
Operator is more productive and does not risk accidents by measuring outside.
Surveyor (helper) not needed in or near excavation.
Reduces risk of electrical shock due to ruptured electrical cables.
Increased versatility:
The screen can display the menus in many languages, such as English, Spanish, German, French, etc.
Keep working longer. Less light needed for perfect work.
Dig to exact grade in ponds, rivers, harbors or other water filled excavations.
The bottom line: More PRODUCTIVE excavator operation.
The Depth Monitor installs on any excavator in less than an hour.
ExcaVision is used for:
Depth Monitoring
Grading
Trenching
Sewer Work with slope
Layering
Height Alarm
Upgradable to GPS

Cutting Slopes

Dredging

Blind Cuts

Pile Driving

Keep Breakers Plumb

Use with laser or without

Fits any size excavator/backhoe
Home - Products - Testimonials - About Us -Contact